Café Menu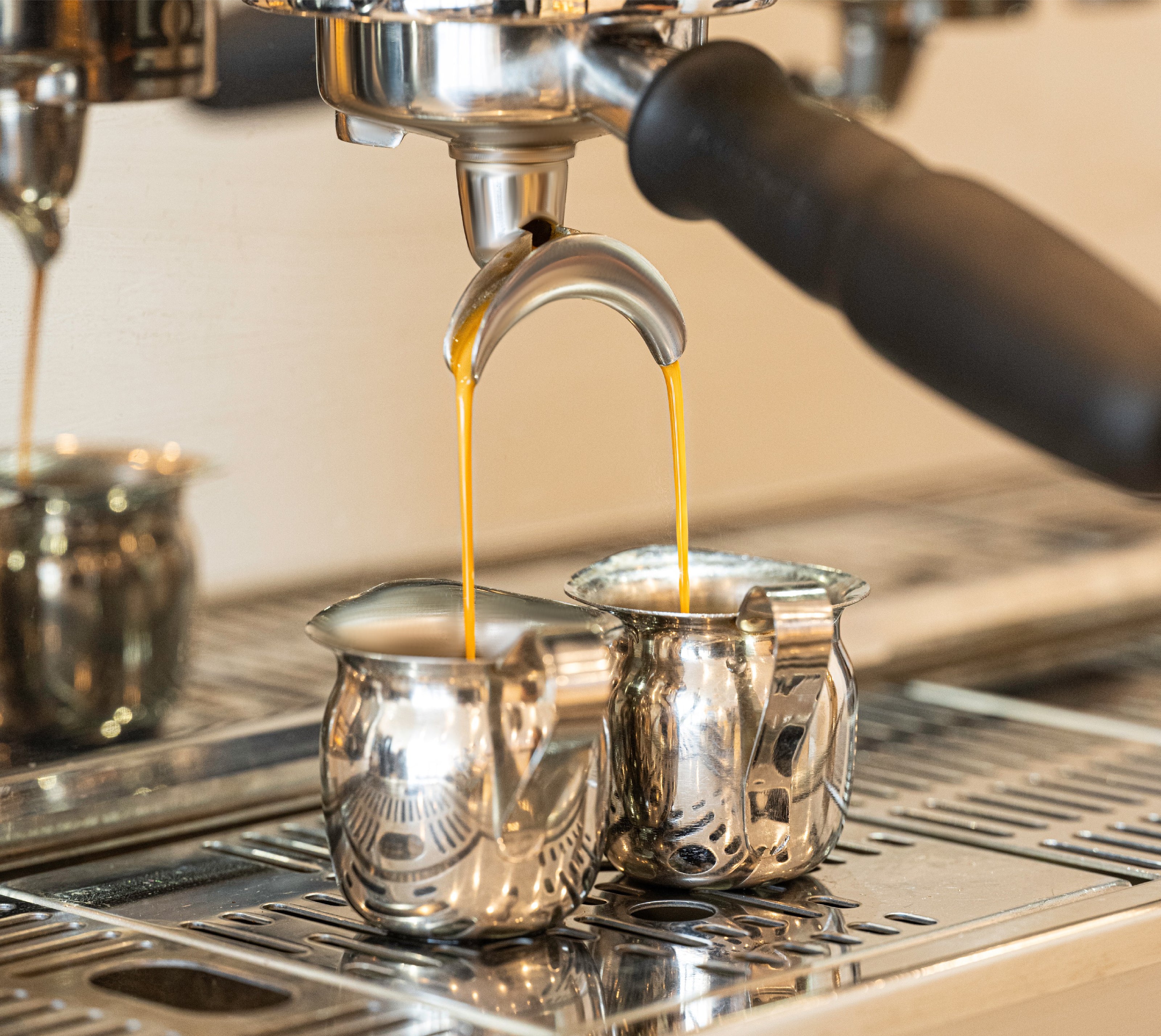 Coffee

Black Coffee $3.25 (12 oz.) | $3.75 (16 oz.)

Americano $3.75 | $4.75

Cappuccino $4.75 | $5.25

Mocha $5.75 | $6.25

White Mocha $5.75 | $6.25

Caramel Macchiato $5.75 | $6.25

Toffee Crunch Latte $5.75 | $6.25

Pumpkin Spice Latte $5.75 | $6.25 (NEW)

Macadamia Nut Latte $5.75 | $6.25

Butter Pecan Cold Brew - | $5.95
Tea

Masala Chai $4.50 | $4.95

Chai Tea Latte $5.25 | $5.95

London Fog $5.25 | $5.95

Matcha Latte $5.45 | $6.25

Turmeric Latte $5.45 | $6.25

Blue Lavender Latte $5.45 | $6.25

Hot Cocoa $5.25 | $5.75

AKB's Cold Relief Tea $4.75 | $5.25
Iced

Momma AKB's Lemonade $5.50

Raspberry Lemonade $5.75

Mango Black Tea Lemonade $5.75

Strawberry Kiwi Tea Lemonade $5.75

Mango Milk $5.50

Rooh Afza $5.50

Matcha Superfood $6.25
Blended

Lotus Biscoff Frappé $6.95

Chocolate Oreo Frappé $6.75

Caramel-Coffee Frappé $6.75
Smoothies

The Greens (Mango, Banana, Kale Leaf, Almond Milk)  $8.25

Pink Pitaya (Strawberry, Banana, Pitaya, Oat Milk) $8.25 

Blueberry Blues (Banana, Mango, Spirulina, Coconut Milk) $8.25
Milk Alternatives

Lactose-Free $1.25

Oat $1.25

Almond $1.25

Coconut $1.25
Pastry Menu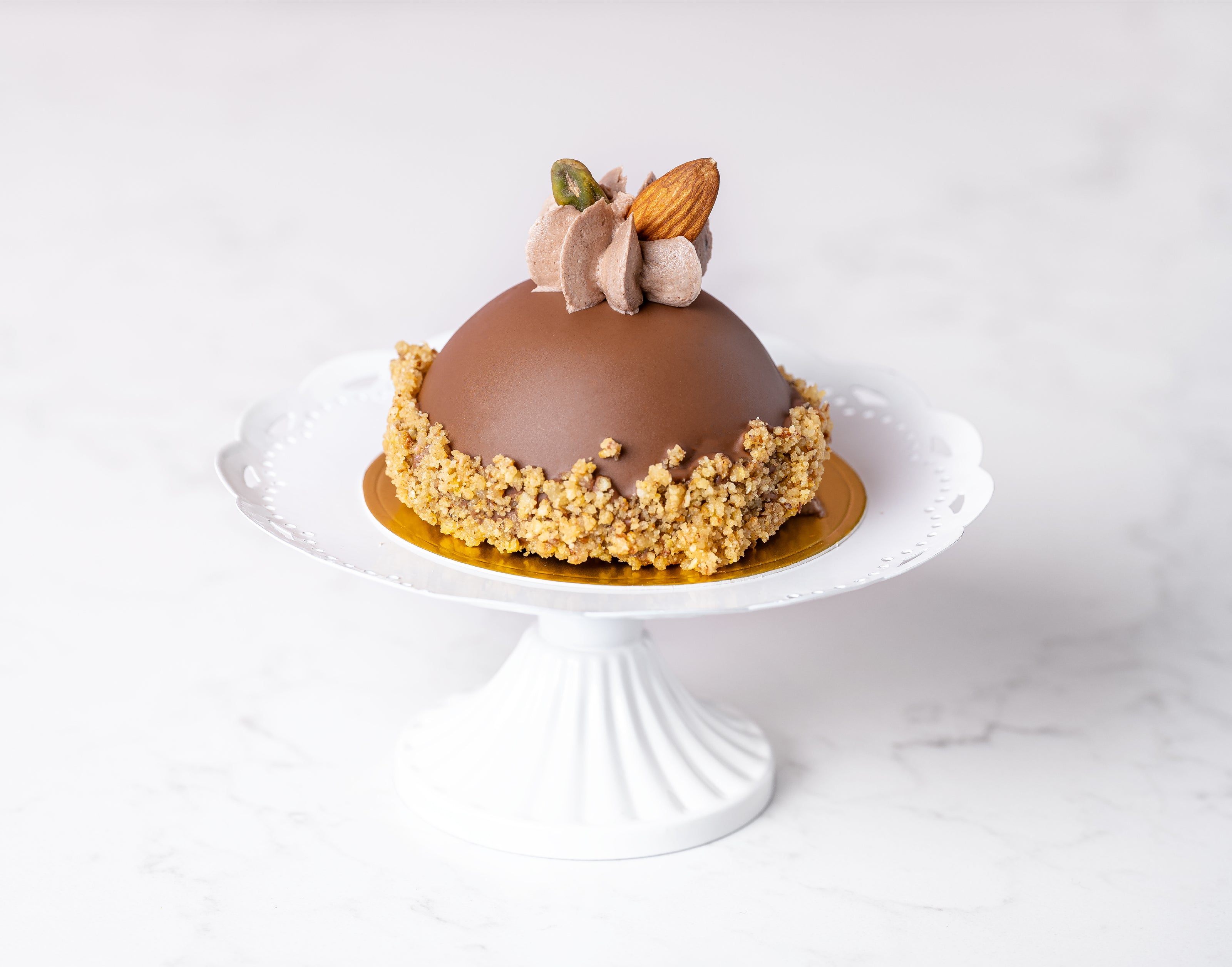 Stuffed Cupcakes

Pumpkin Patch $4.95 (Nut-Free)

Cookies 'N Cream $4.95 (Nut-Free)

Black Forest $4.95 (Nut-Free)

Lotus Biscoff $5.25 (Nut-Free)

Strawberry Shortcake $5.25 (Gluten-Free

Gulab Jamun Cupcake $5.25 (Egg-Free)
Cheesecakes

Mango Cheesecake $6.25 (Egg/Nut-Free)

Lotus Biscoff Cheesecake $7.25 (Egg/Nut-Free)

Pumpkin Spice Cheesecake $7.25 (Egg/Nut-Free)

Caramel-Apple Cheesecake $8.25  (Egg/Nut/Gluten/Lactose-Free)
Choux Pastries

Chai Tea Choux $5.75 (May Contain Nuts)

Sergio's Chocolate Èclair $5.75 (Nut-Free)

Pistachio Èclair $5.75 (Contains Nuts)
Entremets

Caramel Macchiato Entremet $7.25 (Nut-Free)

Blueberry Entremet $7.25 (Nut-Free)
Tarts & Bars

Tiramisu $8.25 (Nut-Free)

Cinnamon Bun Bundt Cake $6.75 (Egg/Nut-Free)

Nanaimo Bar $5.75 (Contains Nuts)

Pecan Tart $5.75 (Contains Nuts)

White Chocolate-Raspberry Tart $5.75 (Nut-Free)
Cake Jars & Mousse Cakes

Red Velvet Velour Cake Jar $7.75 (Egg/Nut-Free)

Lotus Biscoff Cake Jar $8.25 (Egg/Nut-Free)

Birthday Cake Cake Jar $8.25 (Gluten/Nut-Free)

Timeless Tuxedo Cake Jar $8.25 (Gluten/Nut-Free)

Cookies 'N Cream Cake Jar $7.75 (Nut-Free)

Gajrela/Spiced Carrot Cake Jar $8.25 (May Contain Nuts)

Strawberry Shortcake Cake Jar $7.75 (Nut-Free)

Pumpkin Pie Cheesecake Jar $8.25 (Nut-Free)

Almond-Pistachio Mousse Cake $7.25 (Contains Nuts)

Caramel-Chocolate Mousse Cake $7.25 (Nut-Free)
Savoury & Dry Pastries

Herbs & Garlic Danish $5.25 (Vegetarian)

Spinach & Feta Danish $5.25  (Vegetarian)

Butter Croissant $5.95 (Nut-Free)

Cheese Croissant $6.25 (Nut-Free)

Almond Croissant $6.25 (Contains Nuts)

Chocolate-Chip Cookie $3.95 (Nut-Free)

Gingersnap Cookie $3.95 (Nut-Free)

Chocolate Banana Loaf $4.25 (Nut-Free)

Carrot Loaf $4.25 (Contains Nuts)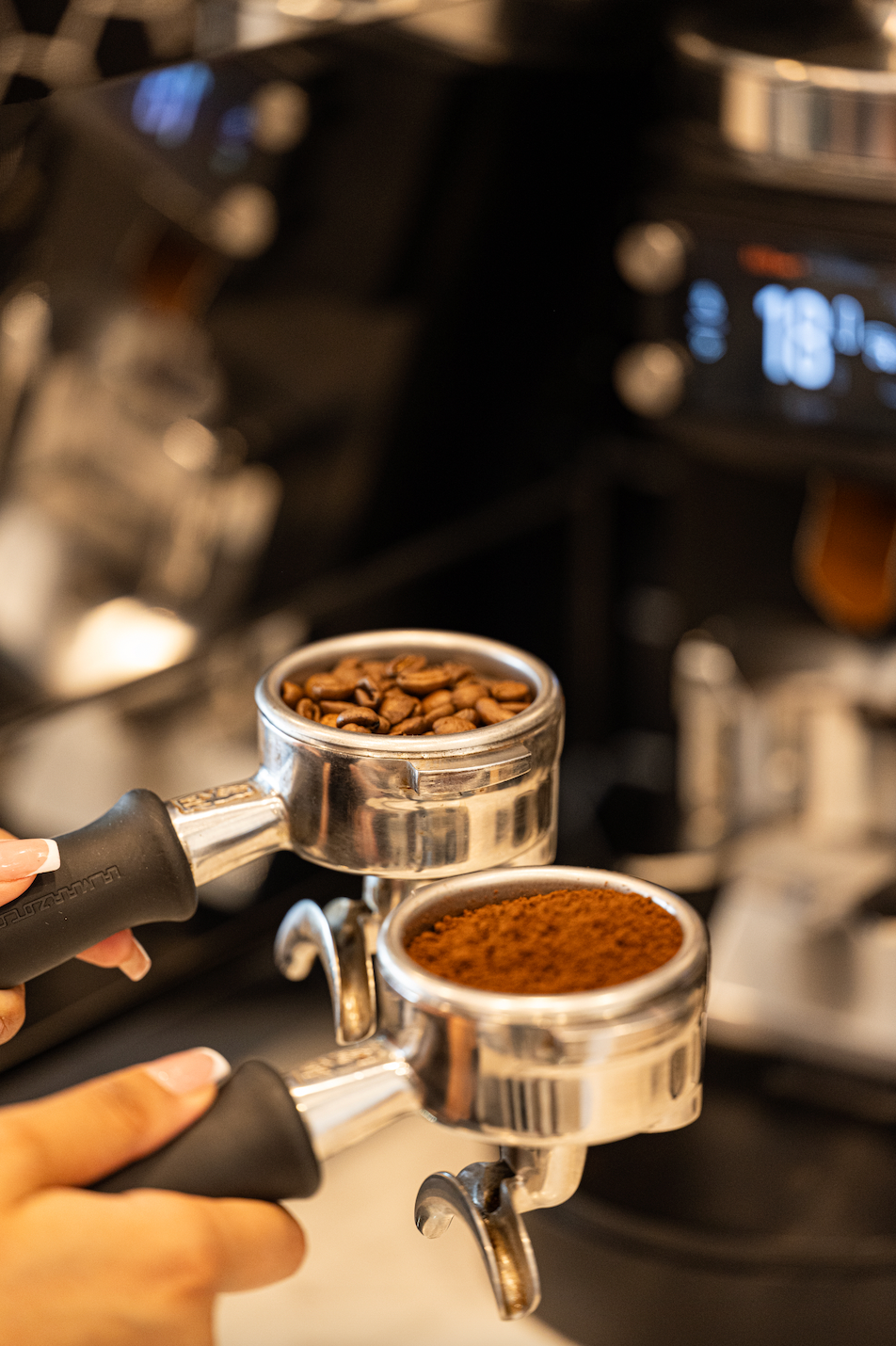 AKB x Rosso Coffee Roasters
Proudly pouring Rosso Coffee Roasters at our café!
After many months of looking for a roaster whose values resonated with ours, we chose to work with the team at Rosso. Their partnership has been exceptional, and we are glad to share top-tier coffee that pairs ever so perfectly with our desserts.
Learn more about our friends over here!
Rosso Coffee Roasters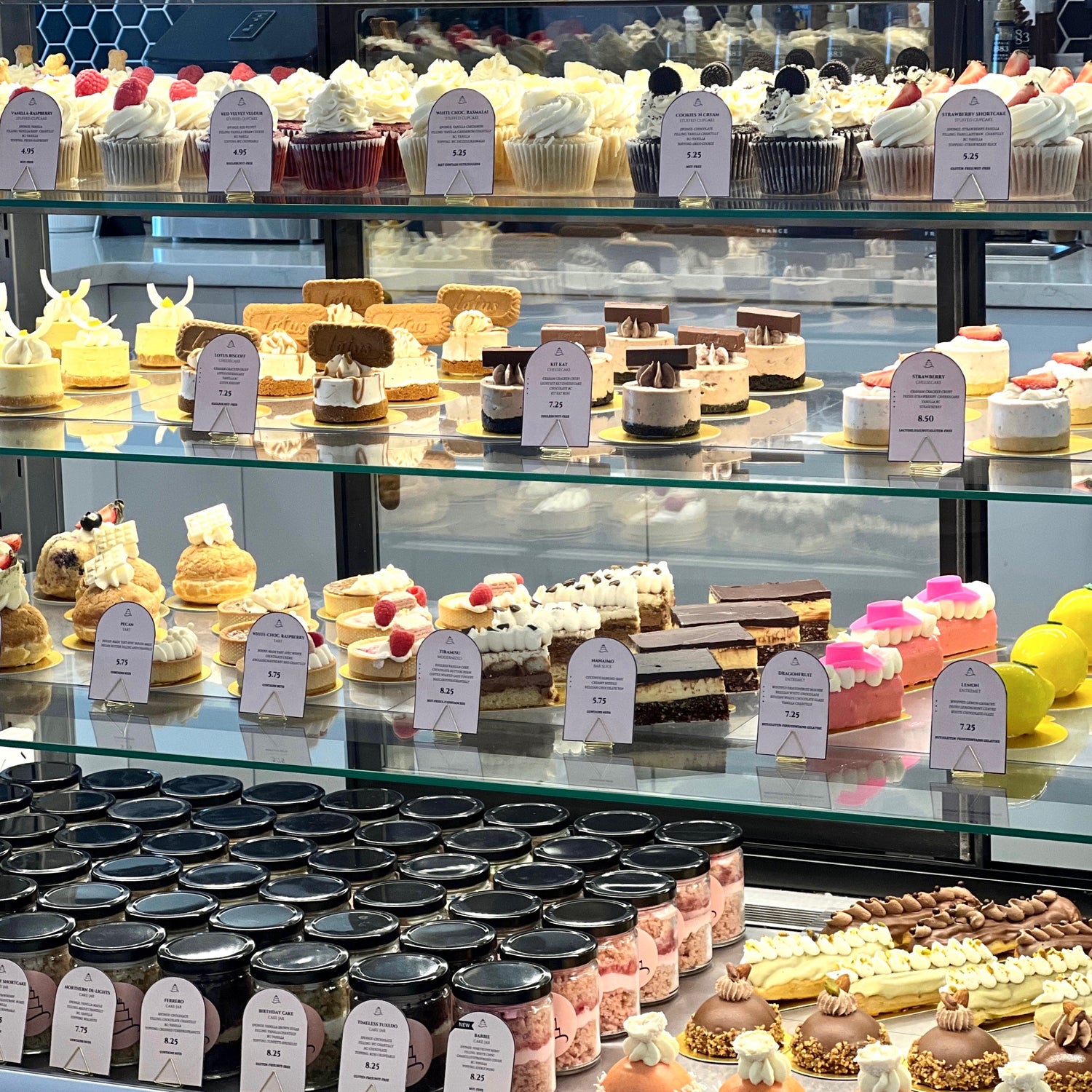 Visiting a friend or simply got a craving?
We've got plenty of fresh pastries in-store every day from stuffed cupcakes, cheesecakes, famous cake jars, entremets, tarts 'n bars, choux pastries, éclairs and more!
Alongside sweets, we now carry a small selection of savoury items such as our salty danishes and croissants!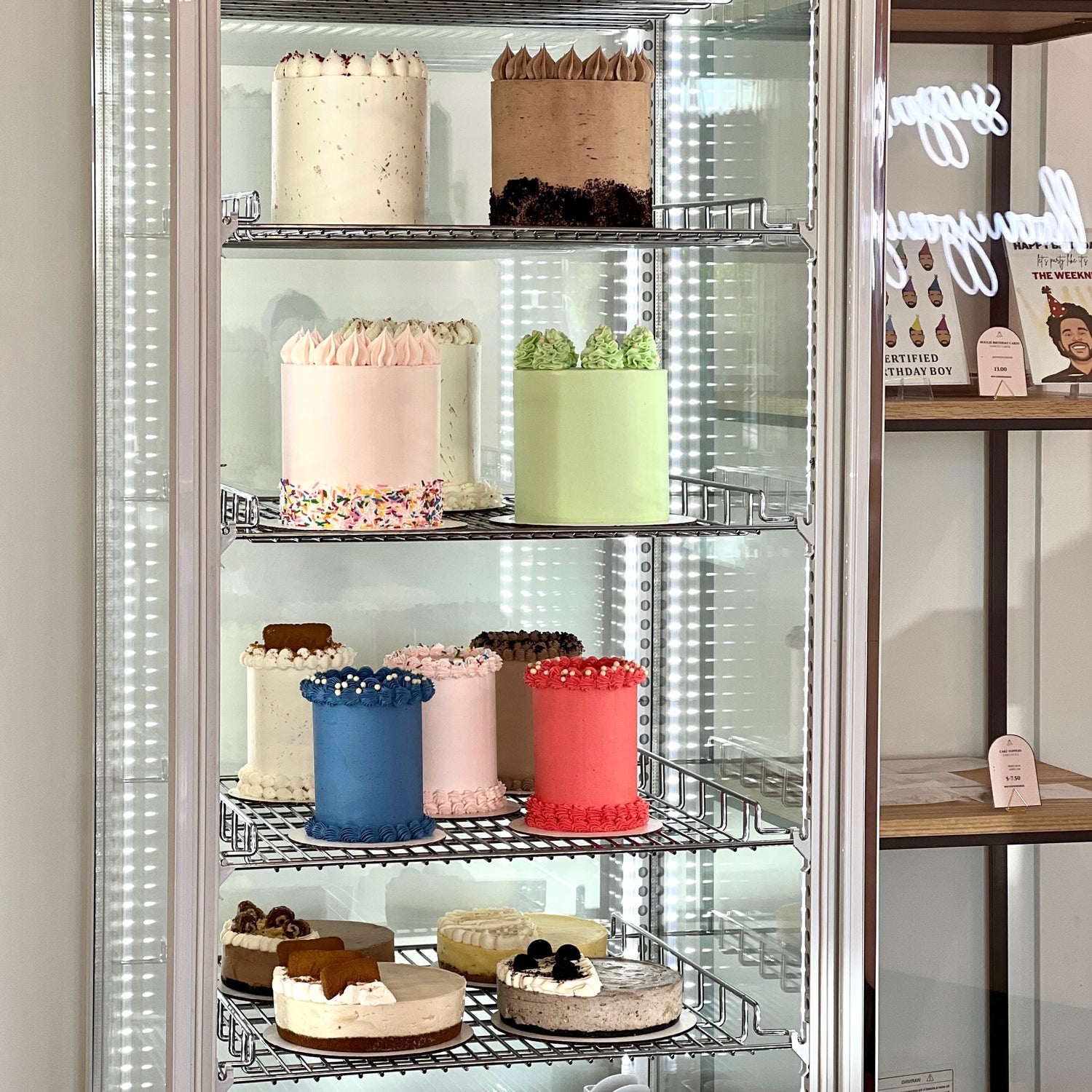 Perfect for a quick grab & go choice!
Our storefront contains a cake cooler which encases 12+ cakes. These range between 4" and 6" layered cakes as well as 7" no-bake cheesecakes.
Alternatively, visit our "Shop" tab and pick from our signature designs!
Require a custom cake? Fill out our inquiry form!
Inquiry Form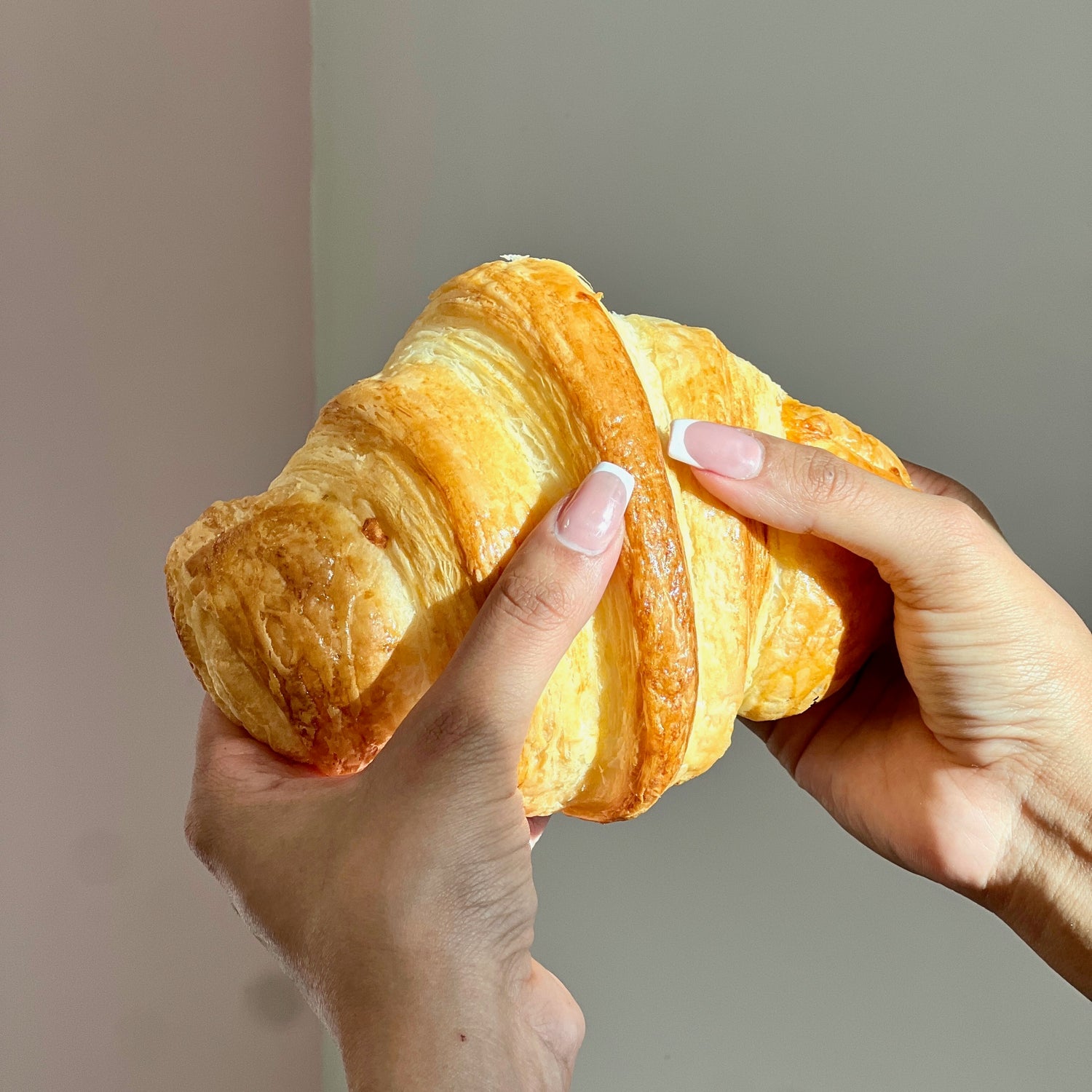 Can't make it in-store? Order online!
We are now on UberEats!
If you are unable to pop by the storefront, you can still enjoy our handcrafted sweets and hearty drinks through our new delivery partner, Uber!
Order Now